Top Ten Pumpkin Spice Items in Stores -- 2016 Edition!
Last year, I made a top 10 list that I truly thought could not be beaten. Then this year it's become clear that the Pumpkin Spice craze has really became some insane that I wonder how many people do not have brains--just giant pumpkins filled with "spice" in their heads! Here is the 2016 edition of "Top 10 Pumpkin Spice Items Currently in your Stores!"
Pumpkin Spice Cheerios
I saw these, and immediately just had to laugh a bit. It isn't because I don't think people will enjoy these but because my daughter LOVES Cheerios. But she will only eat original Cheerios; she will not touch any other kind. She won't eat the fruity, sweet, nothing. But I think any adult who loves Pumpkin Spice will feel a part of Autumn every morning while eating things...though I will say I am glad they are only around for a limited time.
Lindt: Pumpkin Spice Truffles
This one immediately made me go "No, too far." The chocolate from these truffles is amazing and smooth but very rich. Add in pumpkin and spice and I'm truly afraid of the result. I half-expect to see giant Jack-O-Lantern heads around grocery stores for the next several weeks after eating one of these. Ever seen a Gushers commercial? Kids eat gushers and their heads change into random fruits or something, yeah I expect that with adults if they eat one of these.
Little Debbie Pumpkin Spice Rolls
I love Swiss Rolls, they are very yummy but again, very sweet. They are usually chocolate and cream filled with just the right amount of sweetness. Takes a whole glass of milk to get them down and that is great. The chocolate is I would believe a dark or baker's style chocolate because the cream is so sweet. What's offsetting the sweet cream in these? Pumpkin? Pumpkin can already be a bit sweet depending on if it's mixed with some sugar or something so I don't know about these. Dentists love Halloween, they must love Autumn now too!
Pumpkin Spice Peeps
Did anyone else just shudder seeing this? First off, Peeps are not a yearly snack! They are for Easter people! Second of all I have a hard enough time accepting the bubble gum flavored ones...because let's face it anything "bubble gum flavored" that isn't gum just confuses the mind. But now, let's have peeps that taste like pumpkin spice also...ALSO...be dipped in white fudge! I see many future diabetes members!!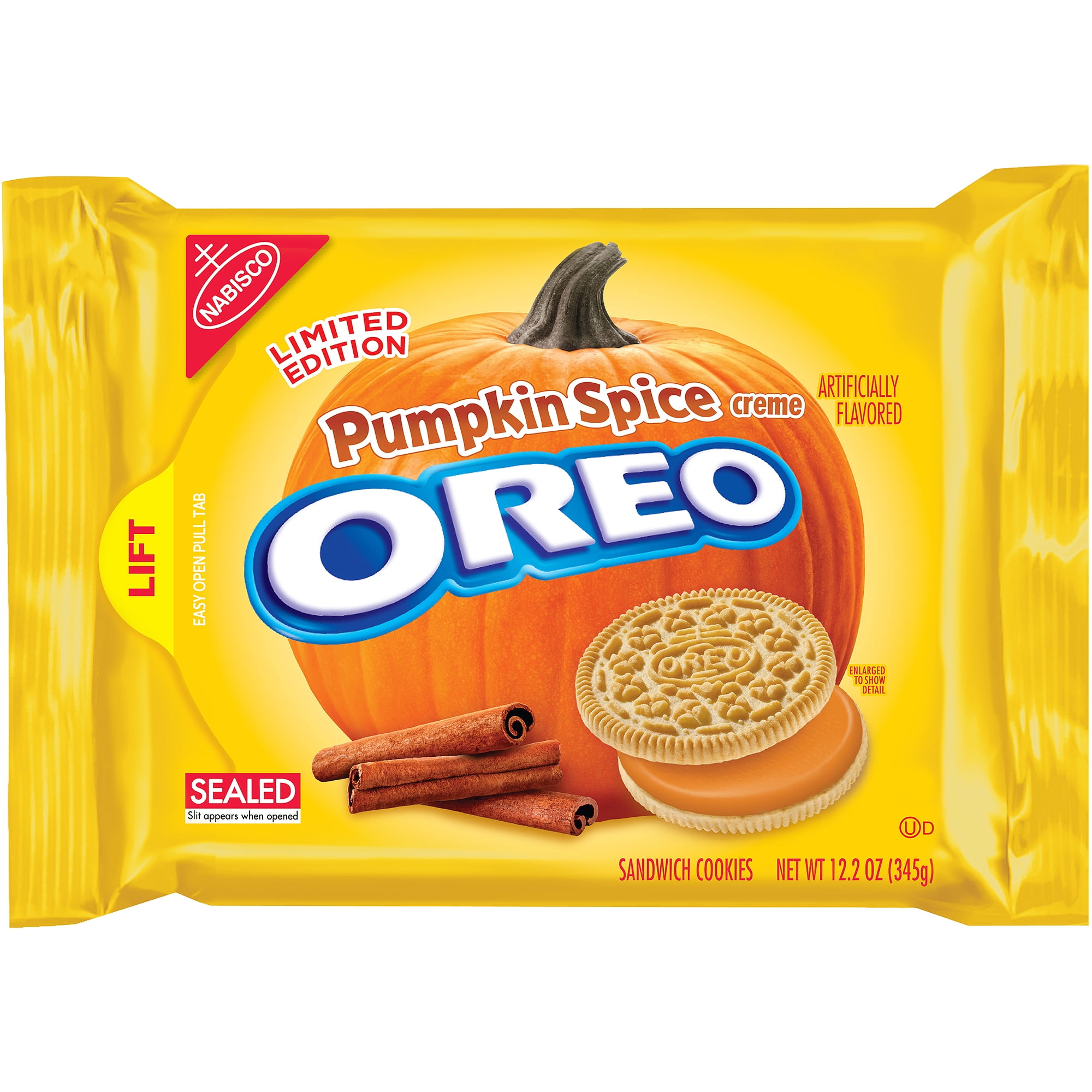 Pumpkin Spice Oreos
Oreos are already sweet, and lately they have strayed from their original chocolate flavor to bring us random tastes. This one just makes me curious, has anyone tried these yet? I am trying to imagine that oreo filling flavor mixing with pumpkin and spice and...I can't bring myself to try it. Did you?
Coffeemate: Pumpkin Spice Coffee Creamer
I can't really fault this one, Starbucks tries to charge so much for the pumpkin spice flavor in their coffee. At least this way you can brew your coffee at home and have it in the amount you want. Plus, these don't expire quickly so if you're into this flavor I'd go running and buy a few bottles!
Nestle: Pumpkin Spice Cookies
By now, I've seen that sweets are what is the biggest "pumpkin spice" item. From cookies, chocolates, freakin' peeps, and more. These don't surprise me and I have no idea how they taste. If they are anything like Nestle's Chocolate Chip cookies? Then yeah any Pumpkin Spice lover will drool for these all Autumn long. If not? Well, frisbees!
Pumpkin Spice M&M's
If you are like me, you love M&M's. From milk chocolate and peanut, to crispy and even coconut. But this...this takes the cake for me. Pumpkin Spice M&M's...I feel like this would be a gag item. "Here! Have some chocolately M&M's!" Then your friend bites into Pumpkin. "Oh! A healthy alternative!" Yeah I'd watch out for the flying right hook but it would be funny!
Pumpkin Pie Toaster Strudel
Not quite with spice but just the same. I can't figure this out! Pumpkin pie is considered a dessert, when did it become a breakfast item? That filling looks SO thick and if it's as sweet as their other fillings it's going to be very pumpkin-over powering. But hey, if your kid won't touch pumpkin pie I guess this is a great place to start!
Bailey's Pumpkin Spice Liqueur
I saved the "best one for last" yet again because this one is exciting. I actually REALLY love Bailey's. I drink their Irish Cream with some alcohol and that is the best flavoring of the day. Their coffee creamers are excellent also so this one I hope the adults are excited for. Haven't gotten your coffee for the day but having an Autumn "girl's night" coming? Get yourself a bottle of this, and get drunk off Pumpkin and Spice! Just drink responsibly, I'm not cleaning up your messes in the bushes lol.
Elizabeth is a work at home Mother of a sweet and beautiful daughter. She is a wife of eight years and a blogger for some time now. When she isn't spending time with her "Livvybug" she is looking for new review opportunities and writing or singing along to classic rock and pop music!