Crazy Cups: Review & Flavor of the Month - Butterscotch
Crazy Cups: Official Facebook
Have you ever unwrapped a piece of butterscotch candy? That lightly caramel colored candy that once it hits your tongue is so smooth tasting that you savor it while you have it? You don't ever crunch it or chew it, because it's just that amazing? Well Crazy Cups has found a way to bring about that delicious Butterscotch flavor into coffee while keeping with their ability to not be overpowering, or "fake" flavors. Today (if you can't tell already) I'm reviewing their Butterscotch flavor!
So this is an awful picture and I'm sorry I tried a few different shots but the coloring of the name of the coffee is a shiny color, and against the orange of the top you can't really see that it says "Butterscotch", but it does. You can see a bit of a "Halloween" feel to this, and I love that. I love how Crazy Cups will always keep up with the Seasons.
In honor of Halloween, I made a giant cup of coffee with my new favorite mug. Sometimes even a witch needs to conjure up some caffeine in the form of amazing coffee from Crazy Cups. With a little "Bippity Boppity Boo", my machine was pouring out Butterscotch coffee into my mug as I grinned in delight. Smooth, delicious, creamy, and not bitter at all makes this coffee one of my favorites. Though I say that almost every time because I've yet to meet a Crazy Cups flavor I didn't like.
My workday is always full of smiles when I drink Crazy Cups coffee. It's not just the fact that I'm having caffeine which will always make you bouncy, but it's because the flavors will always put you in a good mood. It's not just a cup of coffee to "get you by until lunch time". No, their coffee is delicious and has flavors that can match your moods. For example, today is a cool day outside with the leaves falling from the trees. Definitely a warm Butterscotch day. But what about those rainy days where it's just lightning and cold rain billowing onto your windows? I'd say that is a good one for Chocolate Raspberry Truffle. See? Pick your coffee to pick your mood!
Oh, and let's not ignore the fact that drinking this coffee brings about a desire to watch a certain moment in a movie that everyone loves: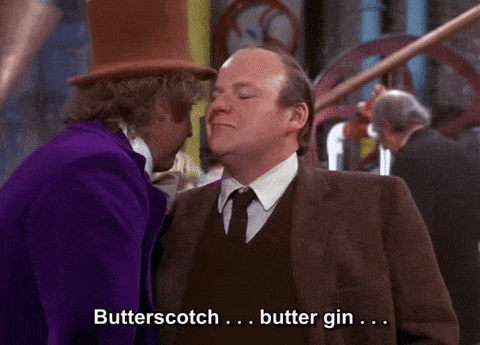 You can get 22 Cups for $15.90 on their website (the link is
here
) and don't forget, if you share this post on any social media page and use the hashtag #operationcoffee, Crazy Cups will donate single serve coffee cups to our military! You know they need them!
Coffee Type: Medium Roast
Size: Regular K-Cup size, slightly heavier in weight.
Price: $15.90 for 22 Cups with shipping estimated at checkout.
#review #operationcoffee #crazycups #octoberflavor #flavorofthemonth #smoothbutterscotchcrazycups #coffeegifts
Elizabeth is a wife to her wonderful husband, a work at home mother to her beautiful little girl and a blogger for some time now. When she isn't spending time with her "Livvybug", or laughing with her husband, she is looking for new review opportunities and writing or singing along to classic rock and pop music!