Hatchimals Glittering Garden Review: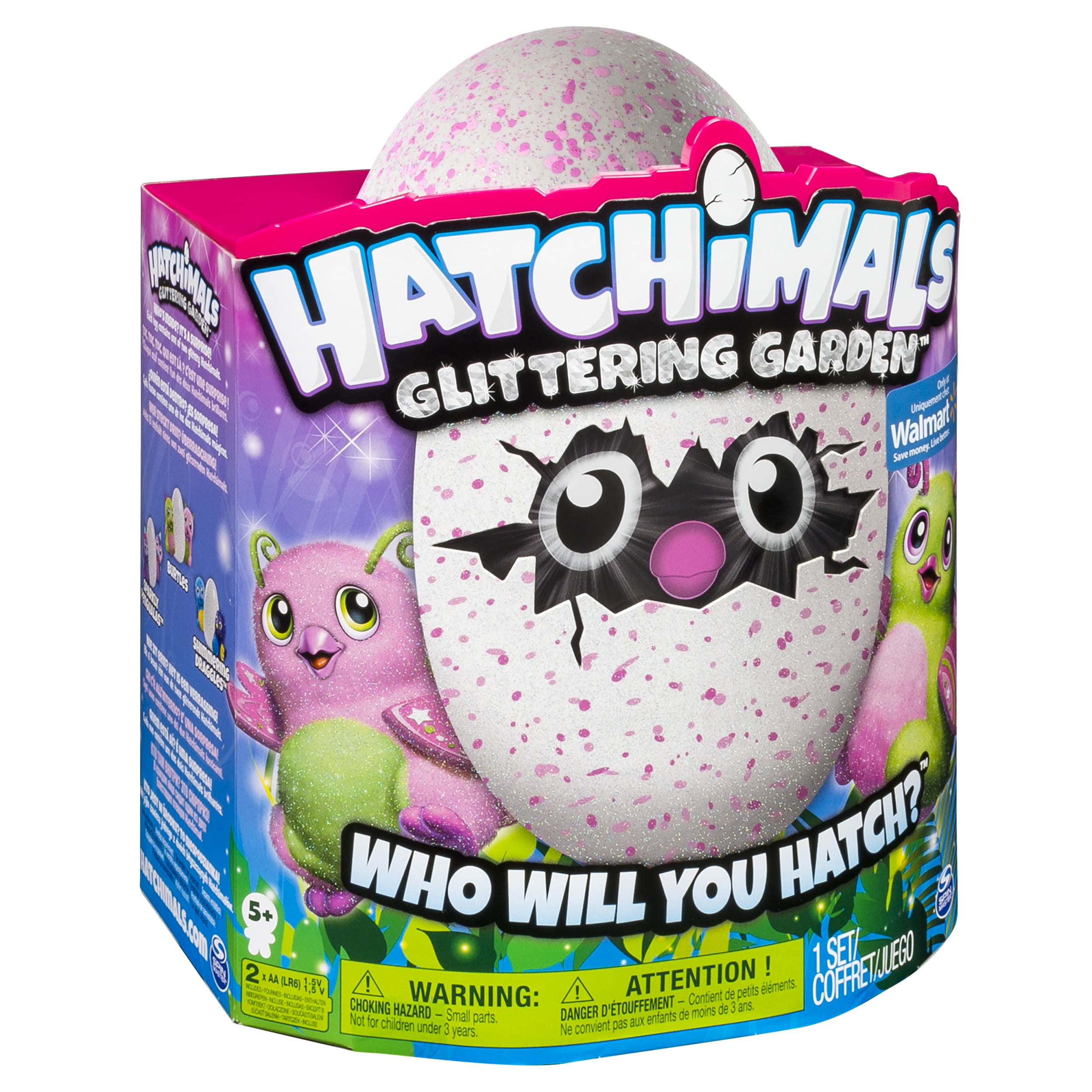 Last year, getting a Hatchimal was the biggest Christmas scene ever. I knew parents that were getting up at 3am on Black Friday and racing out to get one, just to find out stores were already running out! This year, one of the newest ones to join the Hatchimals Family is the Glittering Garden, and we get to review it for you!
As you can see, the excitement of the Hatchimals has not dwindled at all, and I wanted to share my daughter's overjoyed face when she saw this. Along with her friends who as soon as she realized what was in her gift wrap began ripping the paper apart trying to get in there lol. This is quite possibly still going to be the number one toy this year, because you can see all the children are still deeply wanting a Hatchimal. Once we got home from the party, that began the hatching. Seriously, we didn't even get a chance to clean up and put things away, she was begging us to rip the box apart and let her hatch!
The first thing is it pecks around the egg, and you rub the bottom to ensure that it continues to peck. Your cute little Hatchimal will get tired and make adorable noises while stuck in the egg, but you have excitement build as you wait for it to appear. I loved the cute little sounds it made inside the egg, and my daughter was so anxious to see just what she was getting! Every time it pecked another part of the egg open, she would gasp and want to "help it along", and we had to explain to her you couldn't rush things. One thing about six year olds, they have absolutely no patience!
My husband was making sure to read the instructions, which any woman reading this just gasped in surprise. A man reading instructions? Hah, I know. But I'm glad he did because we are actually still using the instructions with this thing. As you can see, my daughter wouldn't put her egg down all she wanted to do was watch it hatch! You can see the eyes behind the egg (they are pretty bright) and we had a couple of friends come by with another present for my daughter. In the end, there were five adults and one child watching a Hatchimal hatch...seriously! This thing keeps the attention of all ages!
Awe the magic happened and we gained a "new member" of the family! She is lovingly named "Chirpy", and my daughter adores her. In fact, she was the "buddy" my daughter took the her physical the next day which was so cute. She was teaching Chirpy how to walk while waiting to see the doctor it was so sweet. I love how there are different stages to the Hatchimal, though I was playing with this thing while my daughter was in school and I accidentally went up a stage. I felt awful so my husband reset it to baby stage so my daughter could do it all.
Chirpy is now at stage 5 which is the "Kid" stage, and she now eats, plays, burps, farts (yes farts) and more! Above is a video of my daughter playing tag with Chirpy, she loves doing it. Though right now as I watch them play Chirpy is more interested in eating and farting than doing anything else, haha. I really think the sound is supposed to be a burp but it sounds like a cute fart, and so that's what we call it.
You can find your own Hatchimals Glittering Garden at
Walmart
currently for
$54.88
, which I've seen the price actually drop recently so I'd make sure to keep an eye out! You can also find them at other major retailers, and on Spin Master's website. I would get yours ordered now for Christmas because you never know how quickly they'll go away!
#review #santasseasonalsuggestions #hgg17 #hatchimals #toys #christmas
Elizabeth is a wife to her wonderful husband, a work at home mother to her beautiful little girl and a blogger for some time now. When she isn't spending time with her "Livvybug", or laughing with her husband, she is looking for new review opportunities and writing or singing along to classic rock and pop music!