The Masked Singer - Our Review and Guesses So Far!
This post is 100% opinion, and no sponsorship.
My husband and I began watching The Masked Singer the day after it aired, and as soon as we sat down the guesses began. One thing I adore is that my husband knows a lot of musical talent. He's able to pin point a lot of people by voice or by history so I expect him to get a lot of these right. But I'd love to show what we've thought of so far! (Obviously not including those who have been unmasked!) For the record I am hooked on this show!
Let's start with the first performance of the show, The Peacock. Of course being the first performer of a show you have to be questioning just how exactly you're supposed to guess. But we know he was a performer before, either a magician or a part of a magic show. Another hint we picked up on was "Friend of Michael Jackson". Our first guess? David Hasselhoff, but also Donny Osmond. Both of which physically move the same way and do have kind of the same deep voice!
Okay this one my husband says it's super easy, it's TPain. Reasons: He has had some legal run-ins (but what musician hasn't these days?), he has a bit of a soulful voice and the majority of the world has never listened to him without autotune. The autotune would create a manufactured sound but what my husband pointed out (and played for me) is how he sounded without. Sure enough, it's him. If it's not him, then we genuinely have no other guesses! People keep going with Ceelo but I don't believe it's him.
This one did not really stand out to me there are a few small things. People say LGBTQ references, the way they throw around the insults "Horn is too short", "Sparkle is too distracting", I'd say someone in the modeling industry. But I just don't know I...have no guess for this one? Do you?
The Deer
Another one my husband says is just way too easy for him. The southern accent on particular sounds, the sports references especially holding a football trophy in his video. My husband's guess (and I'm pretty sure he's 100% right based on how I hear his voice from other movie performances and appearances) Terry Bradshaw.
Okay, another one that could go in any direction. Going for "gold" we would want to say someone like Paris Hilton but she is WAY too soft spoken for the voice that came out of the Lion. No no, let's go film star families. Let's go, royalty, and thinking how other shows have gone including broadway performances our guess is Rumer Willis!
Ah okay so far this is my favorite one to guess, because I know who it is behind the mask and I'm loving watching everyone battle over it. The hints are too clear: Straight jacket, "Pop", "It's Gonna Be Me", " 'Sync'hronized Singing".... clearly it's an *NSYNC member (Unless we've got a BSB member pretending to be just to throw you off and if that's the case I'm going to their next show and pelting them with tomatoes). Then we move on to the voice, he's not high pitched so that took Chris out. He's also not super low so Lance is out. But...I knew as soon as he hit his high notes and also when he turned sideways I knew it. Joey Fatone you better make it to the end!
Another one that I really didn't feel any kind of excited connection to so guessing is hard. They are definitely short statured, you can tell the heels were meant to make them look taller. The hints about how we can't see her but she can see us yeah that's reality television. But nothing more really makes me want to guess personally but I'd go with Kourtney Kardashian.
I... okay talk show host. There are so many of them that have come and gone for all we know that's a puffed up by pillows Ellen Degeneres in there! But no I don't think it's her, and this is another one of those I didn't feel connected to so I didn't really try but I'm going to go with Ricki Lake.
Okay this one I thought all the way through the hints to the singing it was Ru Paul and the reason for this was the last thing said in the hints. "Work It". I thought that one tiny hint would be a clue but when you listen to the hints they say "girl" and Ru Paul has never once represented himself as such. Dressed as such but never said that. So my guess with this one is Margaret Cho.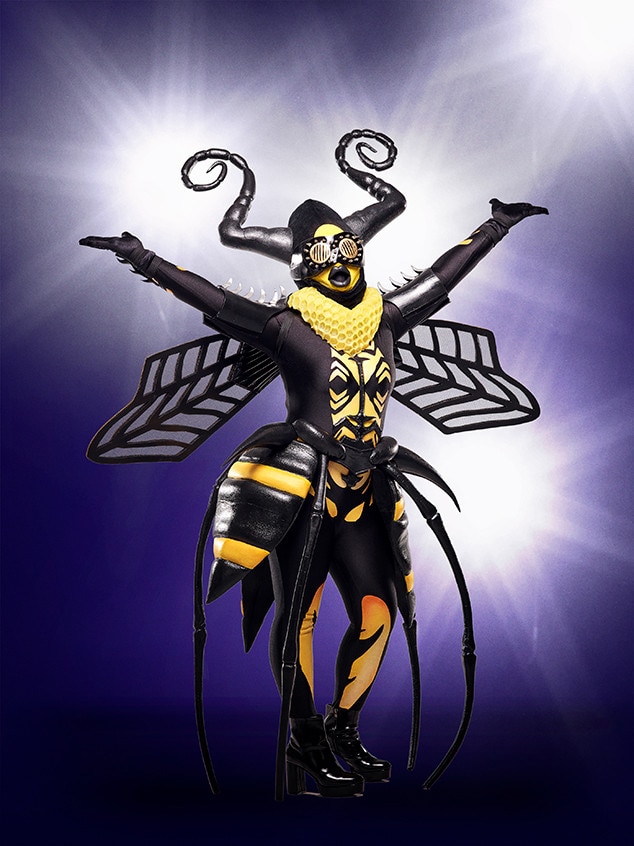 Oh this one for us at first I knew the voice, but couldn't quite place it. Soon as the high notes were hit that raspy voice came out, and my husband and I looked at each other the same time and said it: Tina Turner. Crank some "What's Love Got to Do With It" and then tell us that's not her. Seriously, I know she's going through a lot of medical stuff right now but you can't keep a good singer down. Tina!
As for the judges: I am not a fan actually. I really am not, I feel their guesses are just way too "out there" and intentionally unintelligent guesses. They have not really had any humorous moments so far and I've heard from others the judges could be the reason they stop watching the show. I hope not though, the singers are the best part!
THE MASKED SINGER on FOX Wednesday Nights at 8pm CST!
Elizabeth is a wife to her wonderful husband, a work at home mother to her beautiful little girl and a blogger for some time now. When she isn't spending time with her "Livvybug", or laughing with her husband, she is looking for new review opportunities and writing or singing along to classic rock and pop music!
#reviewballerina #review #themaskedsinger #fox #rabbit #bee #deer #unicorn #poodle #monster #peacock #raven #alien #lion